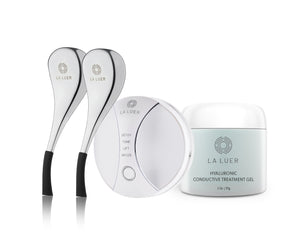 LA LUER Dynamic Duo
It's day 6, and I have been using it daily since day 1, obviously my face has huge differences and I am using it with enjoyment now. CryoSculpt helps ease my puffy face/eyes, it's a brilliant tools. Bought Dynamic Duo, super worthy for money! Last but not least, big thanks to Nicole who spent her time explaining on how to use the device properly.
The best investment I've made this year!
I noticed a huge difference in my skin texture just after a few uses with the Mira device! My skin felt so much smoother and, because I do it on one side first, I can really see the immediate lift it gives. This is definitely the best purchase I've made this year and completely worth the investment. If you are on the fence, I highly recommend making the decision to try the device because you won't regret it.
I've incorporated the device, gel, and the cryosculpt tools into my skincare routine and it is something I look forward to doing because it feels like I'm pampering myself with a luxurious treatment :) Everyone I know that uses the device raves about it.
Really great!
At first I didn't think I noticed a difference but then I went a week without using this and when I finally used it again I saw a noticeable difference. My skin looks so much brighter and toned after using this device. This also has been helping fade my pigmentation from acne and also is helping keep my acne under control. The infuse setting literally lightens up my pigmentation where it's pretty much gone the next day. I actually stopped using other face masks and treatments because this device has everything I need. If my face is dry I also leave the gel on a bit longer to help moisturize my skin a bit more before wiping off. Highly recommend!
My best purchase La Luer
I rarely review any product but this time I really want to share my experience with La luer facial treatment device, cryosculpt tool pair and hydrulonic gel so it can help others to decide who want something like this.Since 4 months I was searching on internet for a face lifting and toning device and skin care products but so much confusion with so many different devices and technologies like microcurrent, red light, radio frequency and ultrasound. For all these treatments mostly we have to buy more than one device that would be too much expensive like in Canada close to $2000 minimum. Then skin care products one good face cream close to $100. But then luckily I found La luer facial treatment device with all these technologies and more or you can say all in one device and bonus cryosculpt tool with hydrulonic gel for Canadian $900 including taxes, shipping and duty from USA. I used it three times and I can see the difference I am really happy with my purchase. Then the founder of this device showed and explained related to these tools like how to use with all tips and tricks through zoom meeting personally. She is so kind, helpful and an angel for me who thought to make this kind of device so we can afford and no confusion. Also we don't need expensive skin care products with this device because it gives the results with detox, tone, lift and infuse mode with red, blue and green light by using microcurrent, radio frequency, ultrasound, ion infusion and sonic pulsations. Then the cryosculpt works as gua sha and thumb massage tool than can be used as hot or cold therapy even for other tendon muscles. Gel is also so amazing and multi use product like as a facial razor gel, after sun for sensitive face and calming. I just can't say much I am in love with La luer products. Finally the shipping and communication was so smooth and on time. I will definitely recommend it.
---